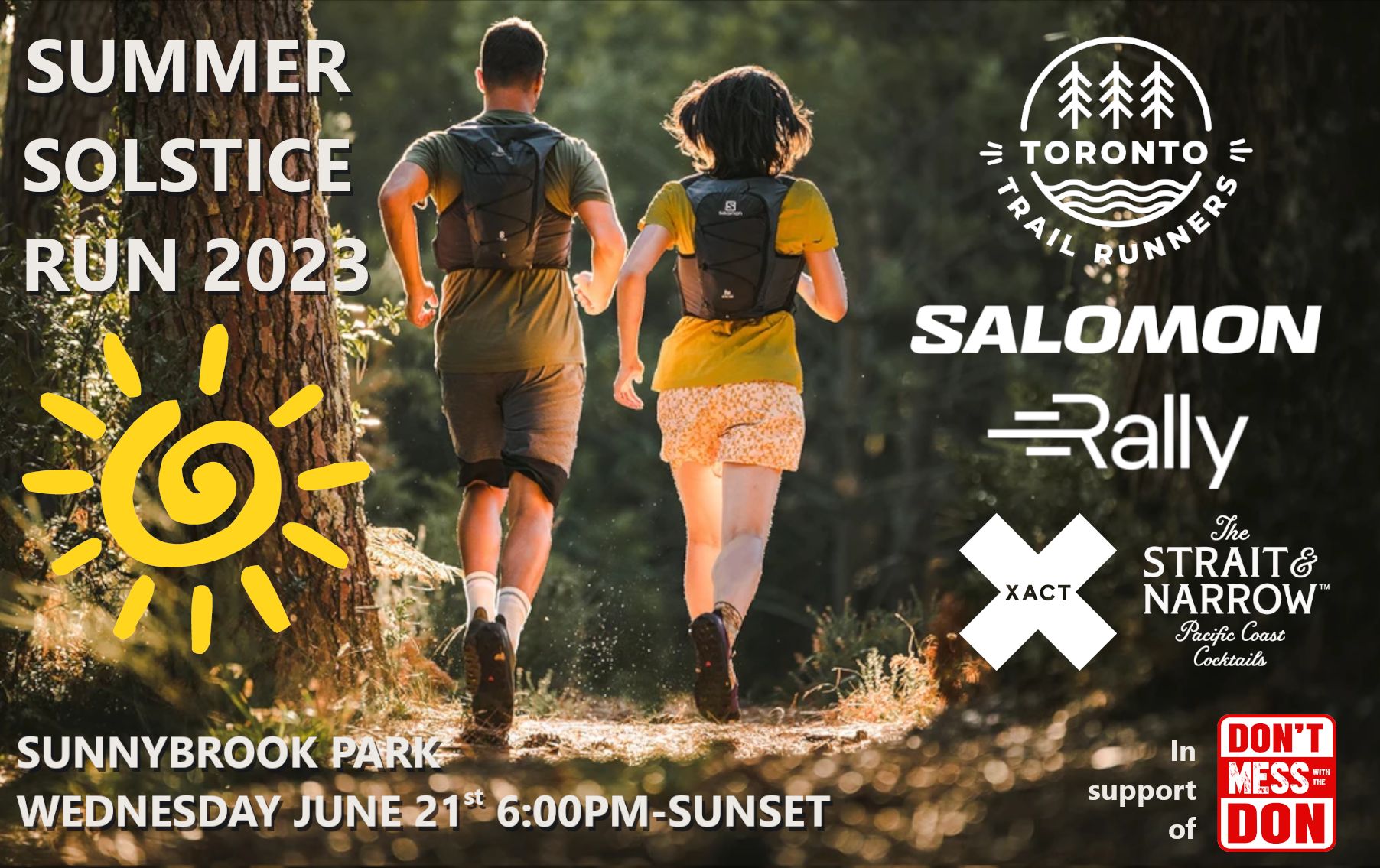 Howdy Runners!
Please fill out the following information if you intend to participate in the TORONTO TRAIL RUNNERS Annual Summer Solstice.
DATE: The event will be held on WEDNESDAY, June 21st, 2023, at Sunnybrook Park.
To make the most of the longest day of the year, we will run trails until the sun goes down! This year we will run laps of a well-marked approximately 6km route, from 6:30 PM until sunset (around 9:10 pm). All paces are welcome, and runners can decide how many loops of the course they would like to run.  Cut-off time to begin your last loop will be at 8:20 PM.
It is Time to Play!
Prizes, Refreshments, and food will be provided by Salomon Running, Rally Brewing Company, Willibald Pasture Dash, and Canada Running Series!
Food and refreshments will be available at 7:30 PM.
*Bring a headlamp if you're planning on running until sunset!
This run is a fundraiser for the Don't Mess with the Don charity, working to keep the trails of the Don Valley ravine clean and protected. Don't Mess with the Don was started by trail runners who saw abuses of Toronto trails and organized to help clean up, advocate, and restore the trails we run.
Tax receipts are provided for any donation over $25.
Please donate here: https://www.dontmesswiththedon.ca/summersolstice
There are no UTMB points awarded and NO! This is not a WSER qualifier. This is a FUN run to enjoy the longest day of the year with the GTA running community. Please keep this in mind for the duration of the evening.
Please meet here at Summer Solstice Run Base (google maps link)
Run Info: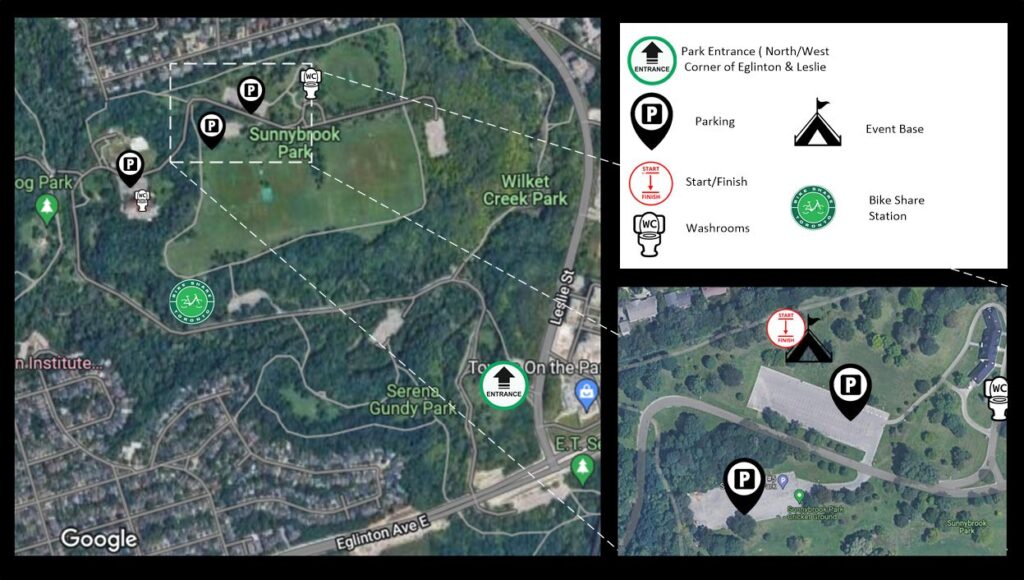 This run will be an open course so please be aware of other trail users (hikers, bikers, dogs) as well as cars at the park road crossing.
The course opens at 6:30 PM, and participants can start running loops. There will be an 8:30 PM cutoff to start the last loop. If you plan to start right at 6:30 PM please arrive early to pick up your race bib.
Flagging:
The route will be flagged as of 4:30 pm on Wednesday. You will see blue flags approximately every 100m.
There will also be Orange flags. What do Orange flags mean? Orange flags will be alongside blue flags and they will represent the start/finish of a Strava segment. (See below for prizes per segment)
Aid Stations: There are none – It will be hot. Bring water.
Timing: There are no official timing services/timing chips. Strava will be required for some prizes so if you don't have an account please create one and get familiar with the app.  www.strava.com
Download the Route here:
Summer Solstice Strava Route: https://www.strava.com/routes/2973588753251354530
Summer Solstice Garmin Route: – https://connect.garmin.com/modern/course/163925410
Summer Solstice Run Strava Segment: https://www.strava.com/segments/32055861
Segment List:
Gundy Woods to Dog Park [Hillier Trail Section] https://www.strava.com/segments/7439467
"A little asphalt for our road running friends" [Flat stretch of paved trail by Dog park.] https://www.strava.com/segments/32055883
Horse Stable Uphill [ Steep Hill Climb ]https://www.strava.com/segments/11082132
Sunnybrook Forest Trail Full [ Flatter trail section around the park. ] https://www.strava.com/segments/25438079
The following will be prize categories:
The runners with the fastest loops
The runners with the most loops
The runners with the fastest segment: (Horse Stable Hill ONLY, all others are for bragging rights)
The Running crew with the most combined loops
The runner who is the Best Dressed/costume
Runners whose ballots are randomly drawn from a hat (*runners will get one ballot per lap completed).
What to Bring:
Headlamp if you plan on running until the end.
Hydration. Please bring your own hydration/nutrition.
Demo Shoes: Salomon Running will have demo shoes on site. Both the new Sense Ride 5 and Ultra Glides 2. Test out a pair for a loop!  Limited sizes, first come first serve so please arrive early to be fitted.
Thanks to our run co-host Salomon Running and Rally Beer, The Strait and Narrow and Xact Nutrition.  Special thanks to  Summit 700, Pasture Dash, Gotta Run Racing, MarsQuest, Run Trails with Jenn, IceSpike, Delta Waterloo, and the Toronto Arrows for so many awesome prizes!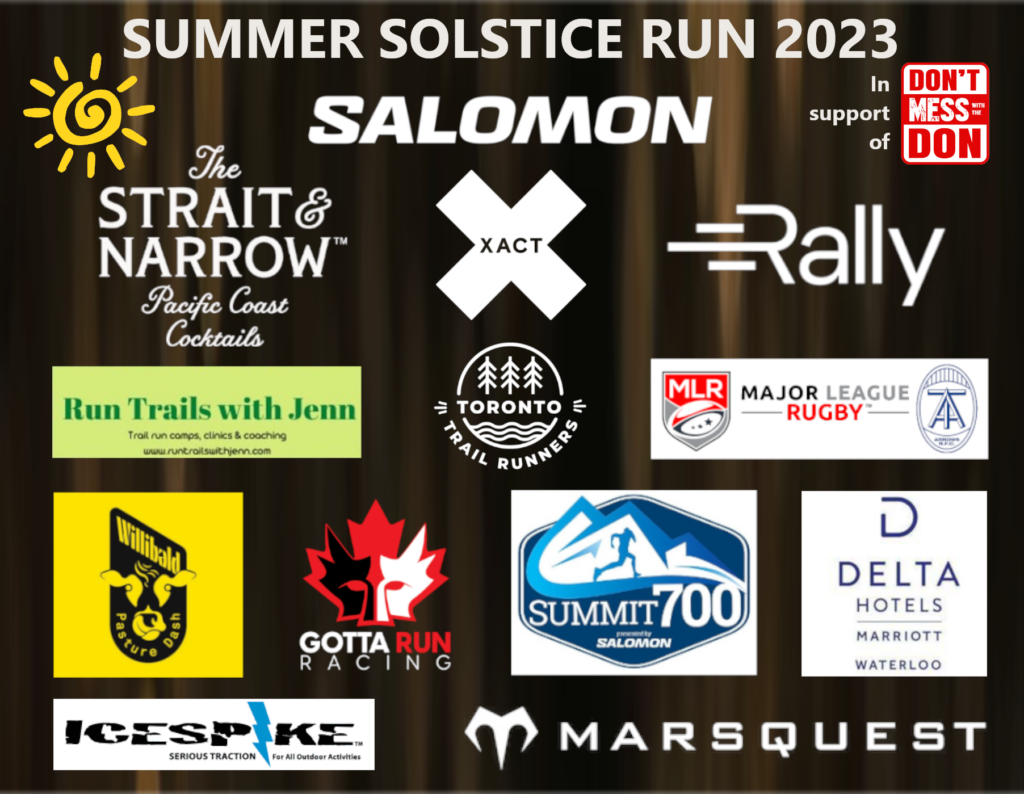 Food and refreshments will be available at 7:30 PM.
*Bring a headlamp if you're planning on running until sunset!
Please Read and acknowledge our Participation Waiver