Toronto Trail Runners
About US
HISTORY
At the Salomon Toronto store at the shops of Don Mills was where the Toronto Trail Runners was started.
The winter and summer solstice runs were originally created by Ryan Barrett and the weekly store runs were born out of that shortly after.
Joshua Young was hired in 2012 and quickly began leading runners on the weekly Wednesday night runs and it has been ongoing since.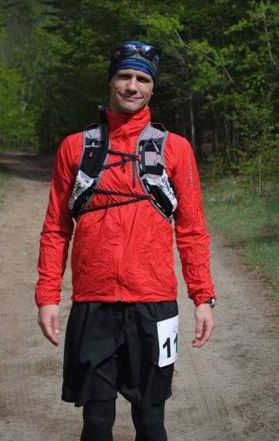 The winter solstice ended in 2013 and Brian Cultbert took over the Summer Solstice and then created Leaves 'R Down in the fall.
Brand ambassadors would accompany the weekly runs and there were monthly draws to add gear to the inspiration. Runners would get a ballot for each week they ran and a draw would be done on the last Wednesday of each month.

We have runners of all abilities come out and learn about trail running, gear, safety, etc. It was a lovely time to share the trails and our love of trail running.
During the COVID-19 epidemic, the runs were suspended on March 17th, 2020.  Then during the 2nd year of the pandemic, Salomon made the decision to close all Canadian Stores and the Toronto store closed its doors on April 22nd, 2021.
When restrictions started to open we worked to organize and start up the Wednesday night runs again. The first run after COVID and after the store closure was Wednesday, July 14th, 2021.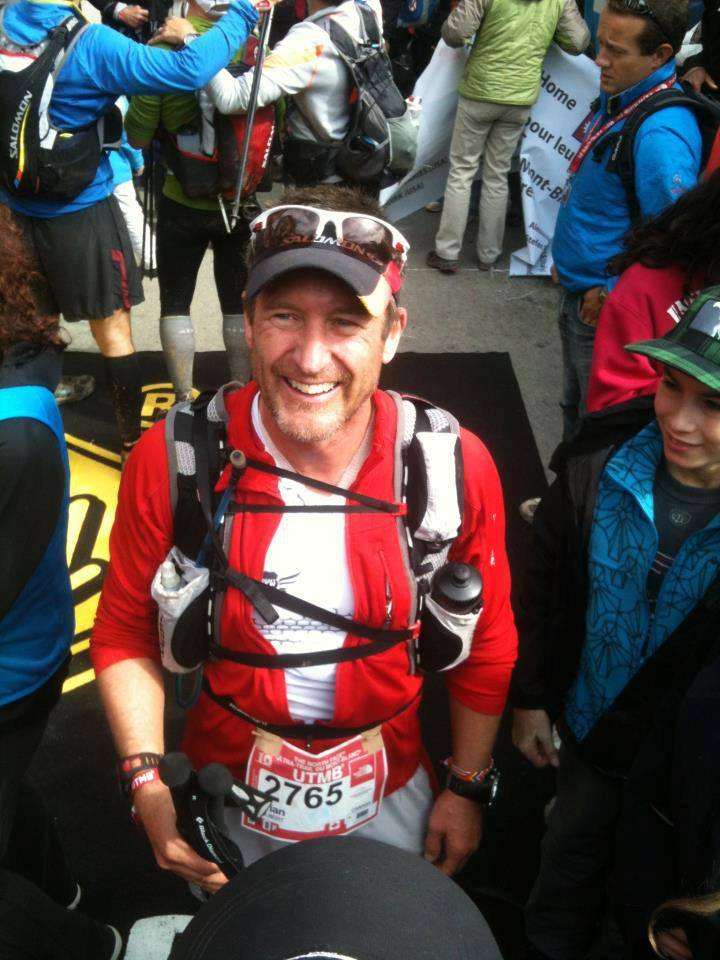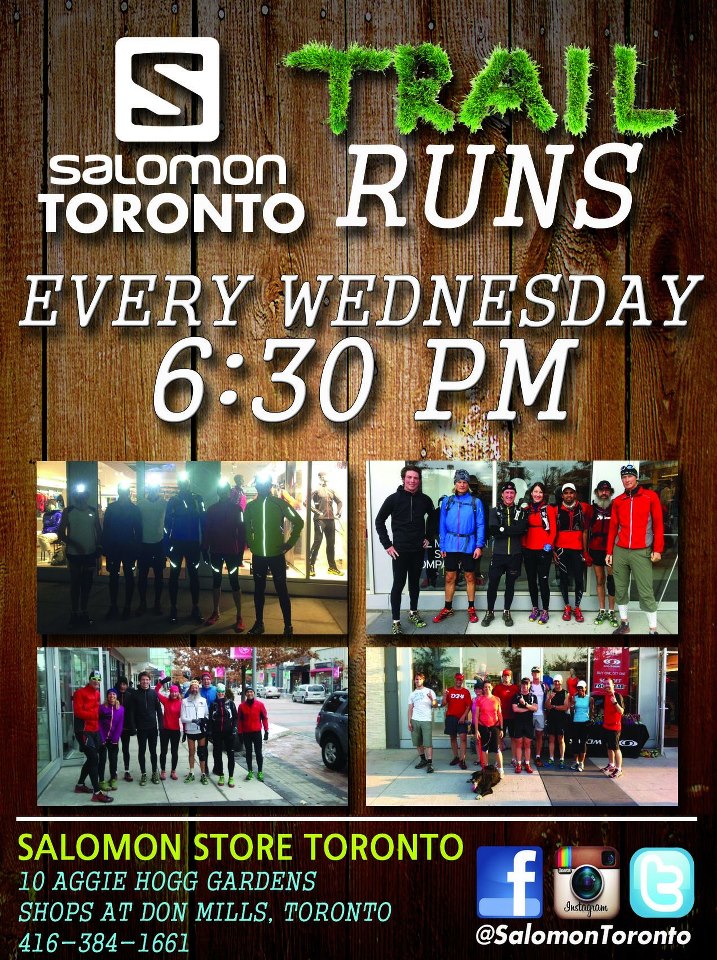 At that time we were known as the Wednesday Night Runs.  Since this didn't really explain what we were or what we did we decided a change was needed.  We wanted to make it easy for runners to find us. We decided to rename and re-brand, and the group decided through a poll that we should be called the 'Toronto Trail Runners'.
Over the years there has been such a community that has gathered both around the store and even after its closure and we will continue to gather around what binds us, the trails of Toronto and the sport of trail running.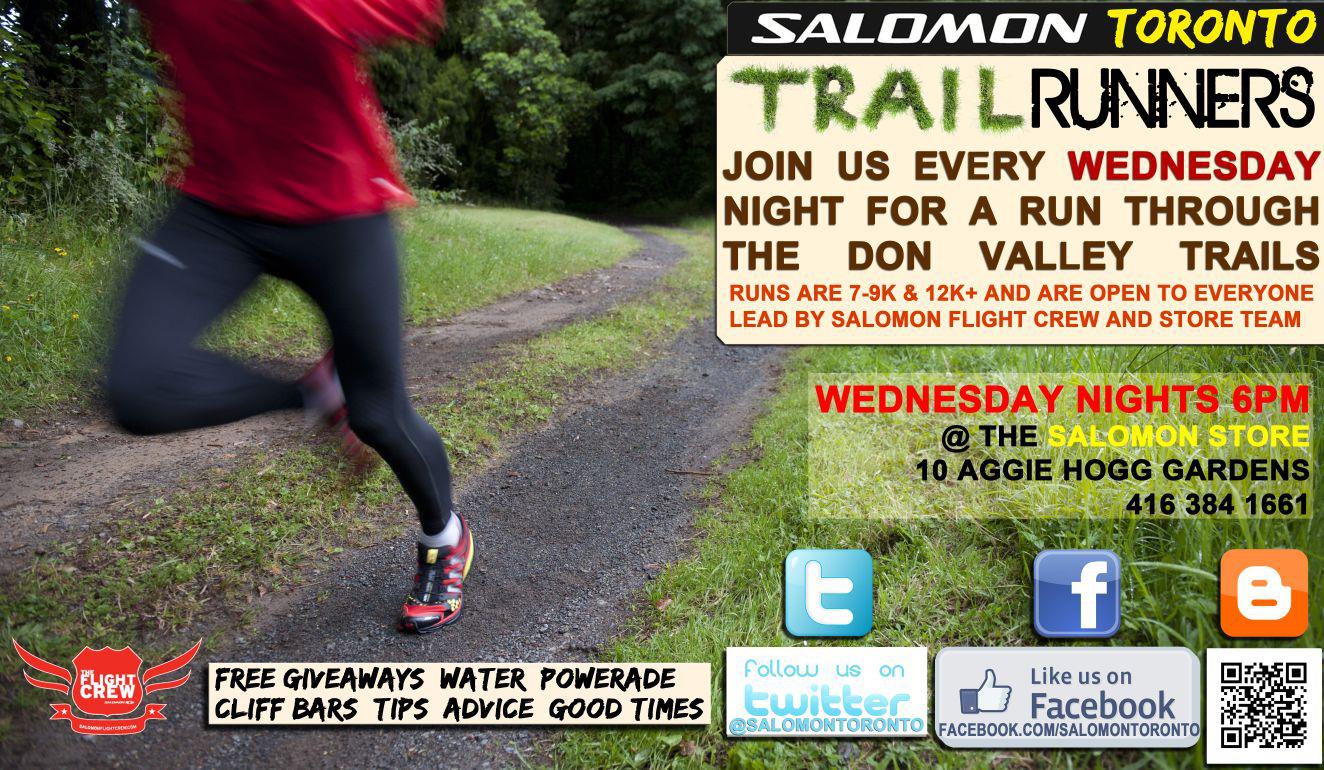 RUN LEADS
The current TTR Run leads help to get new runners out on the trails by leading runs and sweeping to make sure everyone gets home ok.
TTR current run leads are Nat Korol, Sean Symes, Andrew Hale, Sakeena Myers-Halbig, Jack Garniss, Will Mackay, and Dee (Diana) Pearson.

From the Don Valley to all around the world, trail running is such a freeing experience that I love sharing with others. That's why Toronto Trail Runners is such a special community and I have no doubt that if you come out once, that great feeling will stay with you forever. So come join us, for one or all the runs!
Trail running is like surfing with mother nature always giving and taking. I'm addicted and finding the Wednesday night TTR runs have allowed me to continue to feed need for more. Always an outdoorsman and involved in the outdoor lifestyle, Trail running has complimented so many other aspects of my life like skiing, cycling and hiking, as well being the best father and husband to our little family. No matter the day you have had at work the trails, hills & dirt will always sort you out. Living and working in Toronto for construction & Real Estate companies I look forward to any time I can get on the trails, especially when entering the Don with the group, whether helping lead or falling down a hill it's all good, pushing yourself and suffering are the currency in the trails and the stories can be shared with your fellow TTR runners who are all there to give you a laugh and dust you off. I learn something new every run and share these lessons with my son and wife who also have a love for the outdoor life. I am grateful to share my lessons learned and experiences with my fellow runners and always look forward to seeing new and old faces every week living the dirty mud trail life. Come join us and shake your life up grabbing kms.
The Salomon Toronto store out of the Shops of Don Mills created a space for passionate trail runners who showed up for reasons other than their pace times. I immediately felt a sense of belonging when I joined the Toronto trail running community, composed of people from all walks of life eager to show you a section of their favourite trail. Communing and sharing green space was the collective passion that gelled us all together. I started running with the group back in 2014, Wednesday nights, Summer and Winter solstices and other special events. I started helping out along the way leading Wednesday nights and loops of special events. I became an ambassador in 2019. I keep coming back because the Trails of Toronto are a place that is very dear to me, and I continue to be amazed by what we have right within our city. I want to share, protect and advocate for it.
I started running with the Toronto Trail Runners in the summer of 2021 and immediately fell in love with the trails of the Don Valley area.
The Wednesday night runs are a great place to meet like minded people and connect with nature at the same time.
2023 will be my first year as a run lead/ambassador with TTR. I'm looking forward to helping out with our special events and also  introducing new runners to our inclusive and diverse trail running community.
I started out as a competitive road cyclist in my late teens/early 20s and then made the switch to running. I have competed in 5k up to 50 k races and am more than happy to pass on any tips or knowledge.
Sakeena joined the Toronto Trail Runners as a run leader in 2022, with a passion for community building and getting folks out on the city's trails.  Sakeena Myers is an all-season trail runner, who adores the Don Valley in its seasonal variation, for both its landscape and diverse running conditions. On and off trail Sakeena is an easy-going (*but mildly competitive) runner, who runs to unwind, explore, be alone, and be with friends. She has a fourth-degree black belt in taekwondo and kicks ass at trail running too! She's always game to pace, regardless of the leg's speed or distance, and to celebrate at the finish line with beer.
 I first started running with the "Wednesday Nights Runs" back in 2017.  
 How? I had just signed up for my first ever trail race and I needed some trail running shoes. Where did I go? I went to Salomon Toronto and that is where I saw the Wednesday night crew heading out.
I was super excited to learn of this trail running group. Needless to say I joined them the following week with my new brand new Salomon S/Lab Speed.
Fast Forward 6 years and I am still running with (and occasionally leading) that same weekly run.  I have been able to meet so many experienced Trail Runners because of this weekly run and most of them have all answered my countless silly questions about what to wear, best shoes for mud, best local trails, best local races, best destination races…. You name it, I've asked.
THANK YOU to all the runners that come out on a weekly bases and to all the run leads before me for making this the best Trail Running group in the city.
I began running with TTR November 2022 through wind, snow, rain and mud. From the back of the pack I'd be shouting "is this an extreme sport?!" to those further ahead (but it's likely no one could hear me because we were all wearing ear muffs, toques, etc.). I've learned that running is not only a fantastic way to improve physical and mental health… it's also a very social sport. I also love the experience of pushing my body and mind in new ways, while struggling together and exchanging sweaty high fives after a run.
Although I'm new to Toronto, I've made friends in TTR that make me feel at home. I'm committed to creating a welcoming space by ensuring that runners of all backgrounds and levels have the guidance and kinship they need to feel safe and happy on the trails.